What is RingCentral Office?
RingCentral Office is a cloud-based business phone and fax system. It combines a hosted phone system with advanced call and fax management, reliable phone and fax service, and full-featured IP phones that arrive pre-configured and ready for use.
Sales
As an Authorized RingCentral Dealer, we offer commercial class VOIP phone systems which operate on a cloud server. Our services include all of the features you will need in order to ensure that your business operates efficiently and reliably.
Support
Using us, you get two tier support not available to direct customers of RingCentral.  We would prefer you reach out to us first for your common questions, product training, and general support.  If for some reason we can't help, Ringcentral can 24-7.
Learn How a Cloud Phone System Can Transform Your Business.
VOIP Phone Systems for Business
In past days, companies relied on LAN line phone systems for basic communication and services, because there were no other options.
However, on-site PBXs aren't practical for today's small business. Operation and maintenance are expensive and timely. Traditional PBX systems also require a professional to be hired in order to perform even the most simple changes. They were designed for centralized offices, so integration of multiple offices or mobile phones is impossible.
Alternatively, cloud-based business phone system technology makes use of Voice Over Internet Protocol (VOIP) which delivers every feature of an on-site PBX system without the expensive setup and bulky hardware. Cloud-based systems provide all the features of a traditional PBX system, and more, via Internet connectivity.
A cloud-based PBX will seamlessly integrate with multiple locations and remote users. RingCentral is the only provider who can offer revolutionary integration of the system with your smartphone and desktop. This means that the entire phone system can be easily managed from your iPhone, Android, laptop, etc.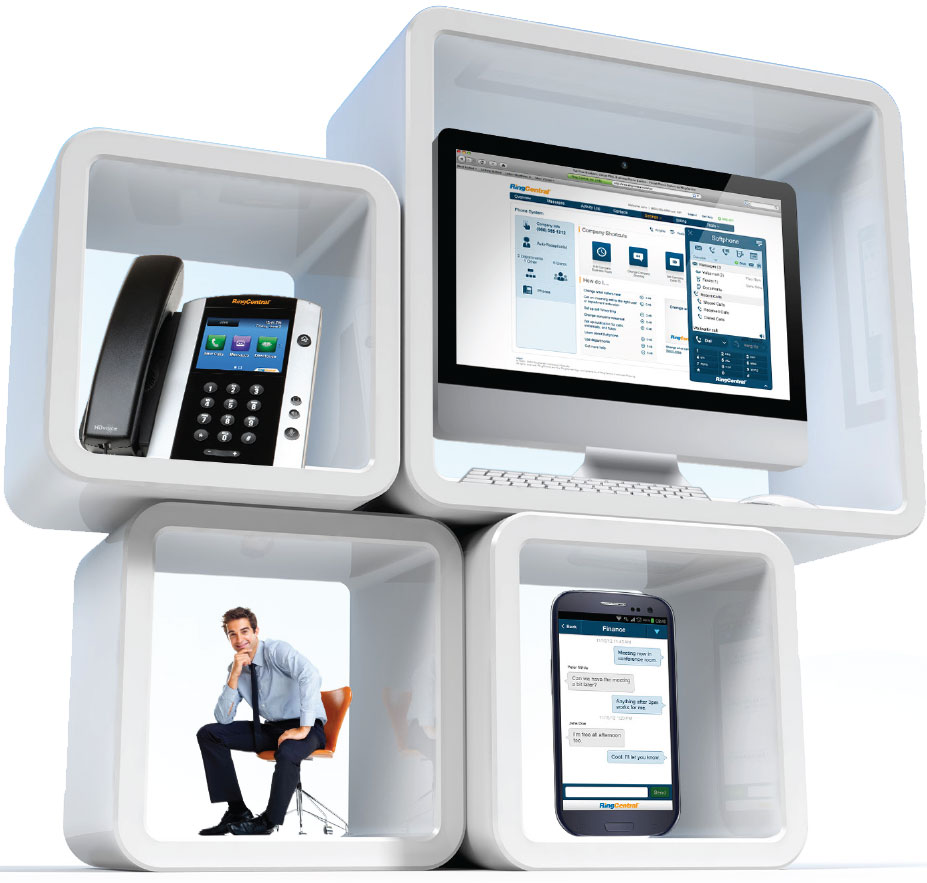 Check out our best product… RingCentral Office™
RingCentral Office is the number one cloud based business phone system available today.
Never again need you worry about expensive, non-premise equipment.
Get Plug&Ring™ ready phones, and delivers enterprise-class functionality.
RingCentral Office can be used as your business's phone, SMS, and fax service.
You can expect the following:
Greater versatility than with any traditional phone system
A single system for all locations including mobile users
Very easy to use - No experience required
Superior mobility allows access from anywhere via online device
Risk Free—reliable service with free 24/7 support
Best value with a low fixed monthly rate
Drastically less downtime due to redundancy
Crystal clear HD sound during your calls (at least on our end)
Super easy hassle free upgrades or downgrades to service being on the cloud
Your RingCentral Office plan will include:
Every available phone feature
Unlimited calls, faxes, and text messages within the USA and Canada
Conferencing
Meetings
Business SMS
1000 FREE toll-free minutes per month
1 main company # (toll-free or local)
1 fax # (toll-free or local)
1 local # per user
24/7 support
Account specialists will help you set up your system at no cost
Complete Phone System for your Entire Company
---
Auto-Receptionist
Callers can be greeted automatically by your Auto-Receptionist and then routed to any number. The greeting can easily be customized for your company's needs!
Dial-by-Name Directory
A list of employees and departments can be presented to callers by first or last name and extension numbers.
Hold Music & Messages
Personalized music and messages can be played while a caller is on hold.
Employee & Department Extensions
Customized extensions can be easily created to accommodate local and satellite offices, wherever they are. Faxes and calls can be accepted, routed, and even blocked through the use of our simple interface with customizable answering rules.
Visual Voicemail
Your online account, also accessible via desktop and mobile app, includes a Visual Voicemail feature which allows you to manage both voice and fax messages, return calls, delete messages, and more.
Voicemail with Email Notifications
Receive voicemails using advanced features such as greetings, delivery options, and alerts. Voice messages can be retrieved online, via desk phone, mobile app, or delivered via email. Never miss one again!
Call and Fax Management
---
Answering Rules
Customize the way in which a caller reaches a specific extension. They can be directed to different extensions, phone numbers, and even voicemail depending on the time and date, date range, as well as the dialed number. Schedule special call handling during vacations and holidays.
Departments
Certain employees can be designated to answer calls for specific departments such as customer support or sales. All calls to these departments will be placed on hold until a designated employee is available to take the call.
Call Screening and Blocking
The caller's name can be announced along with the ability to accept or reject the call, or send them to voicemail. Calls can also be blocked.
Call Logs
All phone calls and faxes are recorded and stored safely in your online account. You will be able to see the incoming phone number, the time and date the call took place, and the duration. In a more detailed view, you could also view the number dialed (especially helpful if you have multiple numbers) and how the call is routed through call handling.
Caller ID
You will be able to see who's calling you before answering the phone. When you place a call, the number in which is displayed to the recipient can be customized with the Outbound Caller ID feature.
Return Calls Using *69
Dial *69 to return your most recently received phone call.
Call Transfer
Calls can be easily transferred to any extension or 10-digit number, even outside of the system.
Call Forwarding
Phone calls can be forwarded from your RingCentral number to any other phone including your mobile, home, or office telephone.
Call Recording
Automatic call recording can be enabled for inbound and/or outbound calls for individual or multiple users. You can also use the on-demand feature to record individual calls.
Call Park
Calls can be parked in the cloud, and retrieved from any other phone within your system. You can park up to 50 inbound and outbound phone calls simultaneously, with ring-back after 5 minutes.
Intercom
Announce calls or visitors, and ping colleagues using phones located at any office location.
Presence Across Multiple Devices
This feature allows you to view the phone status of your colleagues. Your availability status can be shared via desk phone, smartphone or soft phone.
Extension Dialing
Connecting with coworkers is easy. Simply dial their extension or use their presence key to be connected with them quickly, no matter where they're located.
Business SMS
---
Unlimited Text Messages
Messages can be sent from your business number. Your personal phone number does not need to be used for this function.
Mobile Devices
The RingCentral application can be used on any iPhone or Android OS devices to mobilize your company phone system. Use the same business number for voice, fax and even SMS.
Text Messaging Features
Business SMS features include the push feature, number blocking, and email notifications.
Conferencing & Meetings
---
Easy & Unlimited Access
Unlimited conference calling is available with a single company bridge. Each user is given a unique host with attendee access codes. This allows you to conveniently hold conferences with a 1,000 person capacity at any time. Additionally, local numbers are available for dial-in.
Host Controls
Hosts have the ability to mute participants, see attendee count, record, and join conference calls with just a single tap on the mobile app. Starting conferences is simple to do with the invite feature.
Top Notch Meeting Software
High definition video meetings are available for smartphones, desktops, and tablets for up to 50 people. Video and conferencing are combined into one unique feature available in all Office editions. You can share anything, anytime; from documents, websites, and files in cloud storage such as Google docs.
Anything, Anytime - Complete Remote System
Share screen views and even give remote control to other participants. Enhance productivity with mark-up and drawing tools to make illustrations and notes.  All the tools you need to make your business as productive as possible.
Internet Fax
---
Send & Receive Faxes Without Machine
Faxes can be sent and received via email, a mobile device, Microsoft Office®, scanner, or cloud storage.
Receive Faxes Via Email
Fax messages can be received as PDF email attachments and forwarded to other users simply by forwarding the email. Simply send faxes with the recipient's 10-digit phone number with @rcfax.com.
Electronically Sign & Edit Fax Messages
Faxes can be previewed, custom cover sheets designed, and annotations and signatures added to your faxes electronically.
Faxes Can Be Sent Using a Fax Machine with an Analog Adapter
Using an analog adapter, your current fax machine can be connected to your RingCentral service.
Reliable Phone Service
---
International Calling
Get low international long distance rates for worldwide calls.
Smart Voice & Fax Numbers
Use the same number for both voice and fax communication.
Toll-free and local numbers with any area code are available.
Choose a vanity number to increase your company image (1-866-Your-Biz)
Virtual Calling Card
Plastic cards or long PINs are a thing of the past—place your calls with RingCentral. It's as easy as dialing your company's RingCentral number, logging in, and dialing out to conveniently make any call internationally, and it is cost-effective!
Directory Listings
Your company's information can be published in local and national level directories for FREE, which is a sure way to improve the visibility of your company.
Toll-Free & Local Numbers
You have a choice of toll free numbers including 800, 866, 877, and 888. A toll-free # dedicated to your Internet fax line is also included with RingCentral Office. Choose one or more area codes that best suit your business. Local numbers receive unlimited* calls and faxes.
RingMe
Anyone can call you with the click of a button using RingMe. This button can be embedded into your website and email signatures. RingMe can be included in your plan at no additional cost.
RingOut
You can quickly and easily place an outbound call by simply clicking on the number from your online account or Call Controller™ .
Integrations
---
RingCentral Internet Fax
Faxes can be easily sent and received from your computer or mobile device, and files can be accessed from your cloud storage.
Features include:
A fax with attached cover letter can be sent to up to 50 recipients.
Fax transmissions are stored in your RingCentral call logs and softphone.
Files can be easily sent from Dropbox, Google Docs, and Box with the included CloudFax™ feature.
Microsoft Office, Gmail, & Outlook
Microsoft® Office, Gmail, and Outlook® integration makes calls, texts, and faxes seamless and convenient right from your email platform.
Instantly call or fax your contacts by simply clicking on their number
Schedule meetings with your Google Calendar
Send faxes from any Microsoft application
View your complete call history and listen to voicemails
RingCentral App for Salesforce.com
RingCentral phone systems have been seamlessly integrated with the Salesforce CRM for increased productivity and efficiency.
Calls can be placed with a click of a button from within Salesforce.
Call records can be immediately viewed on incoming calls.
Simultaneously manage multiple call records.
Notes can be logged and call reports viewed from within Salesforce.
RingCentral Integrates with Many, Many, More
Here is a list of some more integrations with the RingCentral Office platform:
Google - Make calls directly from from Gmail, expand access to Google Hangouts, and fax directly from Google Docs or Google Drive.
Dropbox™ - Archive your messages and recordings automatically to Dropbox.  Easily search your archived data within Dropbox.
Oracle - RingCentral fully integrates with Oracle's Sales Cloud allowing sales Reps to make and receive calls directly from within the CRM.
Microsoft 365 - Handle all of your business communications without leaving Office 365.  Manage calls and texts directly from 365 mail.
Skype for Business - Expand and extend RC's high quality communications by offering an audio conference with up to 1,000 participants.
Desk.com™ –  Give your customer service team a boost in productivity with click-to-dial, automatic case creation with each call, and more.
Zendesk - Custom tickets upon receiving calls, click-to-dial, and plenty of other features make this seamless integration a no brainer.
Box - Send faxes directly from your Box account.  RingCentral and Box integration makes it a breeze to fax any document in your Box account.
Otka - Provides a secure login experience eliminating IT workload for lost passwords and other login troubleshooting issues.
ServiceNow - Increase productivity and enhance the customer service experience with this seamless integration.
RingCentral Mobile Applications
---
You can control all aspects of your phone system right from your Android smartphone, iPad, iPhone, or tablet device. Complete control of set-up, management, and access of your phone system via mobile device is exclusively offered by RingCentral.
Making changes to features such s call handling options, voicemail greetings, and editing of users can be accomplished from wherever you are. Get access to calls, messages, and faxes on the go when you download the FREE RingCentral app for your smartphone.
Use your mobile device to manage your complete RingCentral phone system with the assistance of the following features:
Your RingCentral business number will be displayed as your Caller ID when you make phones calls.
Fax messages can be sent, forwarded, received and viewed directly from your mobile device.
Access and fax Dropbox files via CloudFax™, local storage, or email.
Save your wireless minutes by receiving and sending VOIP calls over Wi-Fi or 3G/4G networks.
Your VOIP connection status is clearly displayed when using Call quality tracker.
Your company directory and personal contacts are separately accessible.
Text Messages can be sent and received via Business SMS.
Conference calls can be setup and started by simply tapping on the 'Join as Host button', and attendees can be easily invited via email or text.
RingCentral Softphone
---
With Softphone, you can manage your account from any computer. This includes listening to voicemails, screening calls, receiving phone calls with headset, , sending text-to-speech messages, and routing calls. Callers leaving a message can be intercepted, and faxes can be sent and received. The click-to-call feature is also enabled within Microsoft Outlook and other MS Office applications.
Support
---
When it comes to support, you'll have your needs taken care of 24/7.  On top of that, you have multiple tiers of support at your disposal.  We offer our services as your service provider, authorized resellers, and RingCentral experts.  We can remotely service the problems, walk you through setting things up, give little tutorials or resources on whatever needs you may have.  And if, for some strange reason, we are unable to assist with your request, we will gladly forward you along to RingCentral tech support (who by the way has staff answering phones 24 hours a day).  You won't find this kind of support with the phone company you are currently using!